8 Working Ways to hack Facebook & Tips to protect yourself
Hacking a Facebook account has been made possible and easy. Thanks to online programs that give you the opportunity to hack Facebook account on the internet without necessarily downloading any kind of foreign software or system. A good number associated with these online hacking strategies are free for use. Just about all in all, if you want to know how to hack Facebook account online for free of charge, you have come to the right place.
With me, I have an overall of eight different and highly effective methods to hack any Facebook accounts.
 Part 1: Hack Facebook Using Face Geek
The first online method to crack Facebook account is simply by using Face Geek. Face Geek is a simplified online program that enables you to hack Facebook accounts if you have the Facebook ID of the target Facebook account. Listed below are simple methods of how to crack Facebook account online by utilizing Face Geek.
1: Visit the official Face Geek account and get the Facebook ID of the target victim as shown below.
Tip: A person can retrieve the consumer account ID by heading to his/her profile making use of your Facebook account.
2: Enter the account IDENTIFICATION within the spaces provided on the website. The mind at the rear of the hacker will obtain the password for you personally plus display it within a period of 5 minutes.
3: Login to Facebook utilizing the details provided.
Read Also: How to Hack Windows: Beginner Level Part -6
Part 2: Use a Keylogger
Software Keylogger
A software program keylogger is really a program that will record each heart stroke on the keyboard the user makes, most frequently without their knowledge. The software should be downloaded personally on the victim's personal computer. It will automatically begin capturing keystrokes as soon as the computer is usually turned on and remain undetected in the history. The software can be designed to send an overview of all the keystrokes via email.
Null Byte features an outstanding guide upon how to get a keylogger on a target computer to get you started. When this isn't what most likely looking for, you may search at no cost keyloggers or even try coding a simple keylogger yourself
in C++.
Read Also: How to Hack Face book Password Using Brute Force Attack
Hardware Keylogger
These function the same way since the software keylogger, except that the USB drive with the software needs to become attached to the victim's computer. The USB drive will save an overview of the keystrokes, therefore it's as simple as plugging it to your own computer and removing the data.
There are many choices available for hardware keystroke loggers. Wired keyloggers like the particular Keyllama
can be connected to the victim's personal computer to save keystrokes plus works on any operating system — provided you have physical entry to obtain the device later. In case you are looking to swipe the particular passwords remotely, you may invest in a superior Wi-Fi enabled keylogger
which can email captured keystrokes or even be accessed remotely over Wi-Fi.
The way to Protect Yourself
Utilize a firewall. Keyloggers usually send out information through the web, so a firewall will certainly monitor your computer's on-line activity and sniff away anything suspicious.
Set up a password manager. Keystroke loggers can't steal what a person don't type. Password mangers automatically fill out important forms without you needing to type anything in.
Update your software. Every company knows of any kind of exploits in their software program, they work on an update. Stay behind plus you could be vulnerable.
Change passwords. In case you still don't feel guarded, you can change your own password bi-weekly. It might seem to be drastic, but it renders any information a hacker stole useless.
Part 3: Hack Facebook Using Forgot Password Method
Aside from using an online plan that requires you to make use of the username of the focus on Facebook account to crack it, you can use a unique method of hacking Facebook. What you require to have to hack a Facebook account is usually the entry to the consumer account email address (the email address used to open the Facebook account).requires you to make use of the username of the focus on Facebook account to crack it, you can use a unique method of hacking Facebook. What you require to have to hack a Facebook account is usually the entry to the consumer account email address (the email address used to open the Facebook account).
The following is a comprehensive process on how to hack Facebook account on-line utilizing the "Forget Password" choice.
1: Open Facebook plus click on the "Forgot your Password" option.
2: A new page requesting you in order to find your account will certainly open. Enter the focus on username within the space provided.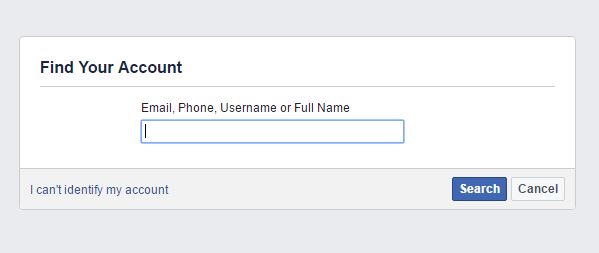 3: A new page asking for you to definitely "Reset Your Password" will open up. Choose the email option plus click "Continue".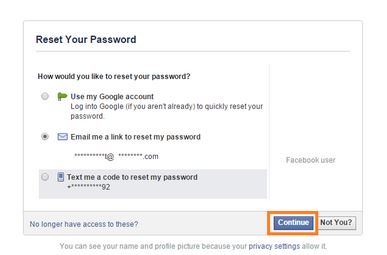 Tip: A person can use the email, text message or the phone call option. You should make certain you have access in order to any of these 3 recovery methods.
4: The security code will end up being sent to the user's email address. Enter the particular code within the space provided.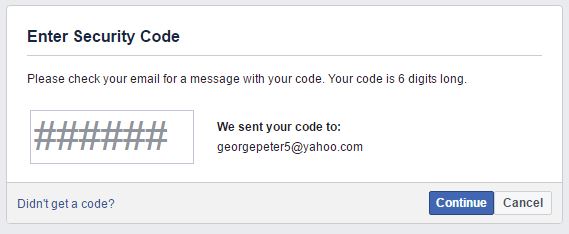 5: A new page inquiring you to enter the new and strong security password will be displayed. Enter the password as requested plus click "Continue".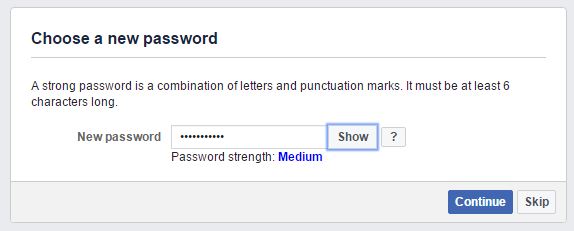 6: Facebook will ask you in order to logout from any device that you suspect of accessing the account. Just click on the "Stay Logged in" option and click "Continue".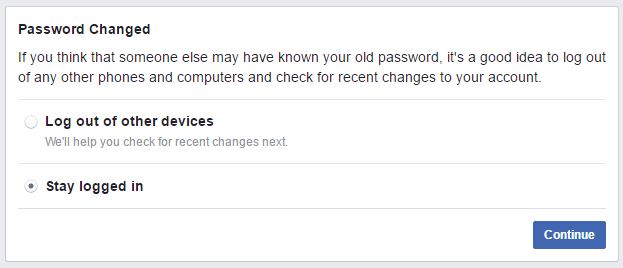 From this particular point onwards, the hacked Facebook account now belongs to you. It's basic as that.
How in order to Protect Yourself
Make use of an current email address specifically with regard to your Facebook , nor place that email address on your profile.
When selecting securities question and solution, ensure it is difficult. Make it so that nobody can figure it out by simply going through your Facebook. Simply no pet names, no anniversaries — not even 3rd grade teacher's names. Is actually as simple as looking through the yearbook.
Learn regarding recovering your account from friends. You can select the three friends a person want the password delivered to. That way a person can protect yourself through a friend along with other shared friends ganging up on a person to get into your own account.
Part 4: Man in the particular Middle Strike
If a person can get close to your own target, you can technique them into connecting in order to a fake Wi-Fi system to steal credentials through a Man In the centre (MITM) attack. Tools such as the Wi-Fi Pumpkin make developing a bogus Wi-Fi network is really as easy as sticking a $16 Wireless Network Adapter
upon the $35 Raspberry Professional indemnity
and getting near your target. Once the sufferer connects for your fake system, you can inspect the particular traffic or route all of them to fake login webpages. You can even established it to only replace specific pages and leave additional pages alone.
This particular little computer can generate an evil AP – a cloned wireless system to trick the consumer into connecting so a person can listen in on their traffic.
How to Guard Your self
Don't connect to any open (unencrypted) Wi-Fi Networks.
Specifically don't connect with any Wi-Fi networks which are out associated with place. Why might the thing is a "Google Starbucks" whenever there's no Starbucks for miles? Because hackers understand your phone or personal computer will automatically connect in order to it for those who have used the network with all the same title before.
If a person have trouble connecting to your Wi-Fi, look at your own listing of nearby networks to see if there are usually any copies of the system name nearby.
When your router asks you to enter the password regarding a firmware update to enable the internet or even shows you a page with major spelling or grammar errors, it is likely you're connected to a fake hotspot and someone nearby is attempting to steal your qualifications.
Part 5: How to Hack Facebook using Sam Hacker
You are able to hack Facebook online by using the Sam Hacker method. This free online hacking tool allows you in order to hack any Facebook accounts as long as a person have the details such as the username with you. As opposed to other hack Facebook on-line methods, the Sam Hacker method only requires the e-mail used to register the particular Facebook account.
Here is usually a detailed Facebook hacking process as utilized by the Sam Hacker program.
1: For you to hack the Facebook account within question, go to the official Mike Hacker website.
2: On the page, enter the email address of the particular account that you would want to hack within the space provided.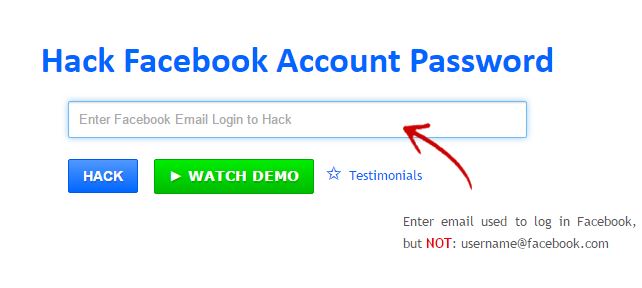 3: Click on the "Hack" option to start the hacking process.
Tip: If you would like to know just how to hack the Fb account, click on the particular "Watch Demo" option.
4: The whole hacking process may take about 2 minutes. The password to the particular account will be shown.
You can now make use of the email address and also the hacked password to obtain entry to the Facebook accounts.
Part 6: Phishing
This option is more difficult than the particular rest, but it is furthermore the most frequent method to hack someone's account. The many popular kind of phishing requires creating a fake sign in page. The page can be sent via e-mail to your victim and will look specifically such as the Facebook login web page. If the victim records in, the information will certainly be delivered to you as opposed to to Facebook. This procedure is difficult as you will need to create the web hosting account plus a fake login page.
The easiest way to do this would end up being to follow our guideline on how to clone an online site to make an exact copy of the Facebook login page. Then likely to just need to tweak the post form to copy and store / email the login details a target enters. If you need help with the actual steps, there are detailed instructions available by Alex Long here on Null Byte. Users are very careful now with logging directly into Facebook through other hyperlinks, though, and email phishing filters are getting better every day, to ensure that just adds to this already difficult process. But, is actually still possible, especially if a person clone the entire Facebook site.
How to Protect Yourself
May click on links through email. If an email tells you to sign in to Facebook via a link, be wary. First examine the URL . In case you're still doubtful, move directly to the principle site and login the way you usually do.
Phishing isn't only done through email. It could be any kind of link on any website / chat room or text message / and so on. Even advertising that put up could be malicious. May click on any questionable looking links that ask for your information.
Use anti-virus as well as web security software, like Norton or McAfee.
Part 7: How to Crack Facebook Account Online Using Hyper-Cracker
Hyper-Cracker is a good online Facebook hacking device that allows you to hack any Facebook account within a span of mins. With this free on-line hacking tool, all you need to have together with you is the username associated with the account holder.
Hyper-Cracker allows you to break the Facebook password, see the friend listing of the target account, download pictures distantly, search the whole history associated with the target account, since well as check the particular login activities and the whole conversations of the target consumer.
The following is really a comprehensive process about how to crack Facebook account online simply by using the Hyper-Cracker technique.
1: Visit the Hyper-Cracker website and scroll down the page to find the "Hack Now Online" option.
2: Click upon this option to spread out a new web page.
3: Within the spaces provided, get into the user name of the target Facebook account.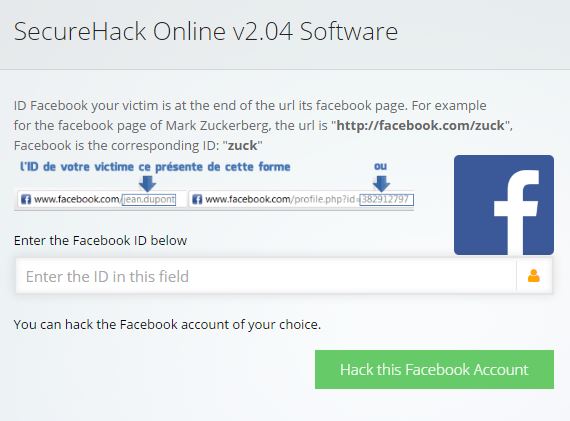 Tip: Please be sure that the username starts using the HTTP: // address. Failure in order to do this you won't' take a position in order to hack the Facebook accounts.
4: When you have entered the particular details correctly, click the "Hack This Facebook Account Now" option.
The account in question will be hacked, and you will be in a place to access the messages, profile pictures as properly as anything that you might deem necessary through the accounts.
Part 8: Hack Facebook Account Using mSpy
Another on-line method of how in order to hack Facebook account on-line is by using mSpy. With this program you will have the possibility to hack the Facebook accounts of your liking, browse the messages as well since view and download the particular pictures from your hacked Fb account. Here's how to hack Facebook account using mSpy.
1: Purchase the mSpy program and create a merchant account with them.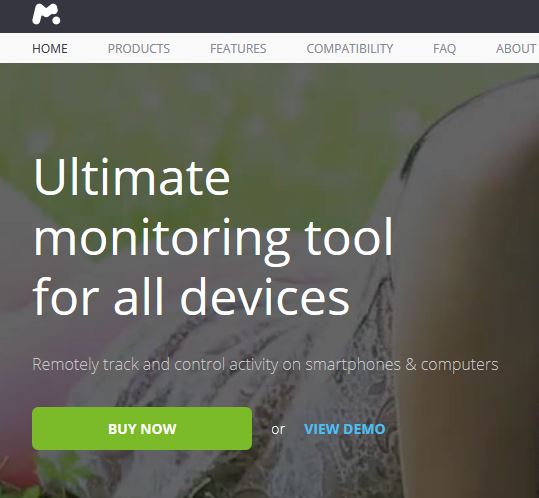 2: Obtain hold of the telephone that you want to hack.
Tip: The phone ought to be the one utilized to log into Facebook. When the target uses the PC, install the mSpy program on the COMPUTER.
3: Once installed, login your account and choose "Facebook Tracking".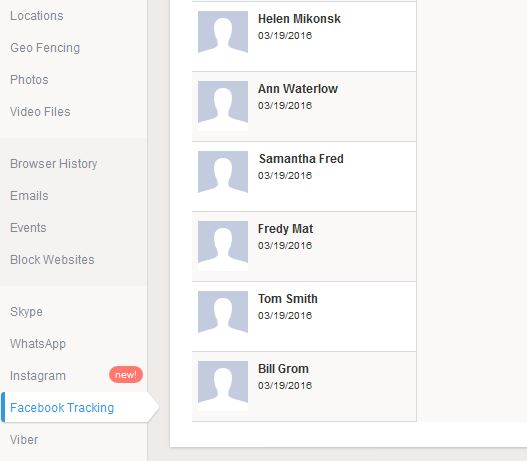 4: Through this point onwards, you are able to monitor each and every single message that is sent or recieved around the hacked Facebook account.
If you are looking to hack someone's facebook account, our 100% Working Guide to hack facebook is a great place to start!
It comes with everything you need to hack a person's Facebook account, including a complete Guide on creating a domain, buying a hosting, designing a phishing site and Hacking the username & password!
It's a great solution around for those Who are looking to hack a facebook account of someone with a step by step Tutorial.
It will show you exactly how to Hack a facebook account with a phishing domain and has the trick every beginner should learn.
You can check it out by clicking here.